Beautiful, timeless and just perfect
There's no such thing as an 'off-the-shelf' wedding, and to our minds, there's no such thing as a standard wedding ring either. Each and every one of our wedding rings is custom made by Joseph George himself, bringing the benefit of over 40 years of experience to deliver the perfect way to mark your marriage.
An initial consultation is always free, and once you've ordered your ring, discussing and fine-tuning the design is all included in the cost. Whether your engagement ring is by us or not, we're always happy to offer advice, and to help you choose what's best. And whether one of our existing range catches your eye (perhaps with a few adjustments) or you have something completely different in mind, we're always ready to create the custom wedding ring of your dreams.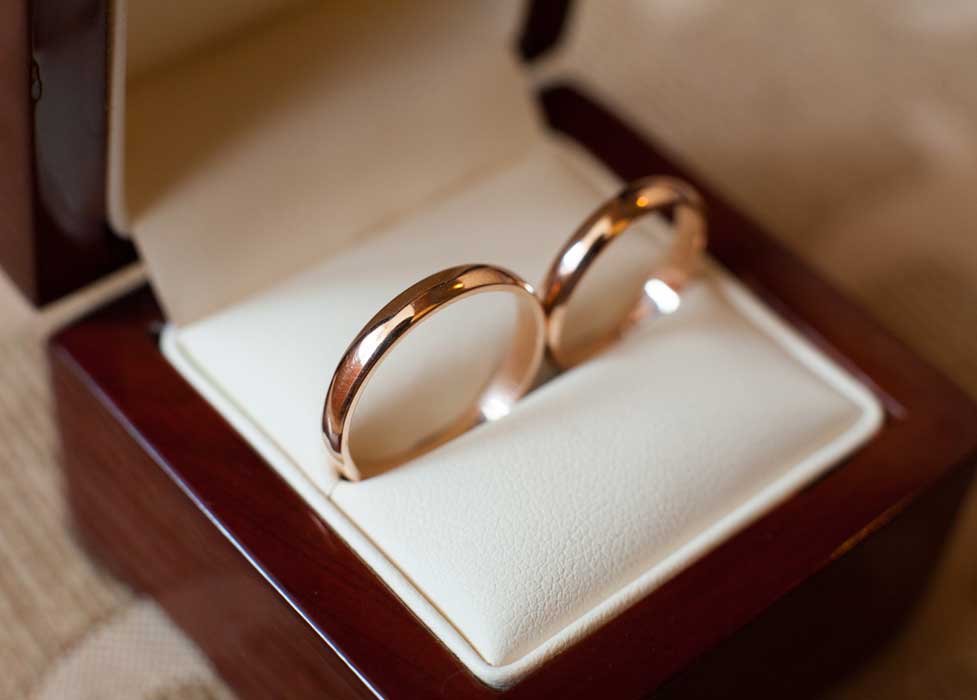 Which metal for the ring?
We offer a wide range of precious metals for your wedding ring. Yellow gold is the choice for traditional rings, while platinum is an increasingly popular choice for modern wedding rings. You can also opt for a two-tone effect by combining the two, or by choosing white gold, which works particularly well with platinum.
Complementing your engagement ring
You are likely always to wear your wedding ring alongside your wedding ring, so it's important that the two complement each other, both in looks and profile. If the widths are similar, then that helps to ensure that neither ring will overly dominate.
They don't have to match precisely, but it also helps if there are echoes of your engagement ring in your wedding ring, whether in the choice and style of stones, the pattern, or the settings.
As with engagement rings, if you're opting for diamonds, what you need to consider are the four 'C's: carat, colour, cut and clarity. At Joseph George Jewellery we have a wide range to choose from across all of these considerations, and can advise on what's best to complement, or to provide a subtle contrast with, your engagement ring.
We offer a wide range of precious stones to complement, or as alternatives to diamonds. So your custom wedding ring could feature sapphire, opal, ruby, tourmaline, amethyst or almost anything.
Why not have a look at some of our custom stone set rings to help inspire you?
Naturally, we also have plenty of custom wedding rings and bands for men as well. Should the wedding rings of both spouses match? Not necessarily – you each have your own tastes and styles, so there's nothing wrong with individuality in your rings. As ever, we are happy to advise – just take a look at our men's wedding rings. You may even (as more and more couple are) like to think about a men's engagement ring too.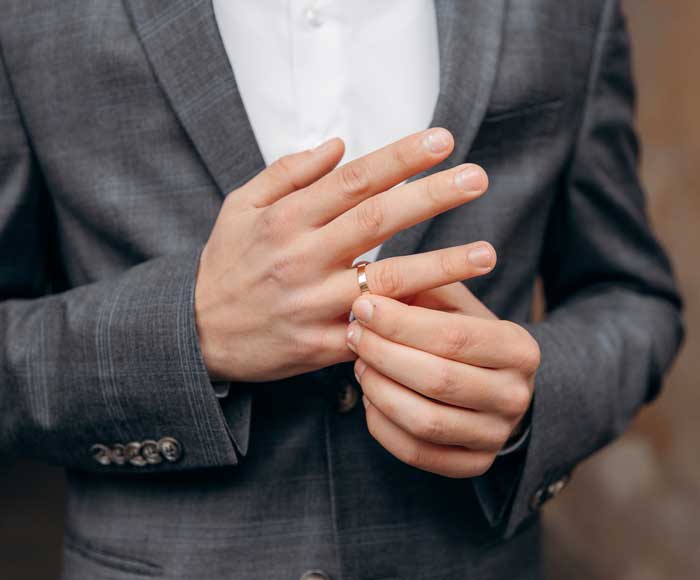 Please follow the links to view our range. Remember, your choice can always be fine-tuned to suit your requirements. We can also custom make you something completely different.
Based in the Central Business District of Melbourne, we welcome visitors, and you're also welcome to make an appointment to meet with Joseph George to discuss your custom made wedding ring. Simply contact us for details.