The earliest earrings ever found dated to around 4,500 BC, and they are likely to have existed for some time before that. It was during the Roman Empire that the use of valuable gemstones in earrings became common, and that trait has continued to the present day.
Today, however, all too many earrings are mass-produced. While they still generally look good, there's nothing like having a set of custom made earrings designed for your wedding, a special occasion, or just to say "I love you".
While we have a great selection of stud earrings and other choices, please remember that if you don't see something that catches your eye, Joseph George is always ready to craft any custom earrings you might wish for.
Like any bride, you'll want to look at your absolute best on your wedding day, and all eyes will be on your dress, your rings and, of course, your face. Earrings are therefore an important part of your overall look.
Obviously they should complement your wedding and engagement ring, but most importantly, they need to go with your wedding dress. More formal gowns suit sparkling drop style or diamond stud earrings. If you're opting for something less formal, on the other hand, you may prefer something more dangly – just contact us to discuss your thoughts.
Necklines are also important. Bolder designs suit strapless dresses, perhaps with a lovely necklace, but if your wedding dress is very ornate, or with emphasized shoulders, then drop styles may be less suitable or practical (you don't want your earrings to get caught up in your dress).
Remember as well to take your hairstyle into account. If you wear your hair up, then a big bold design will look great, but soft, flowing tresses call for something more delicate.
Which precious stones to choose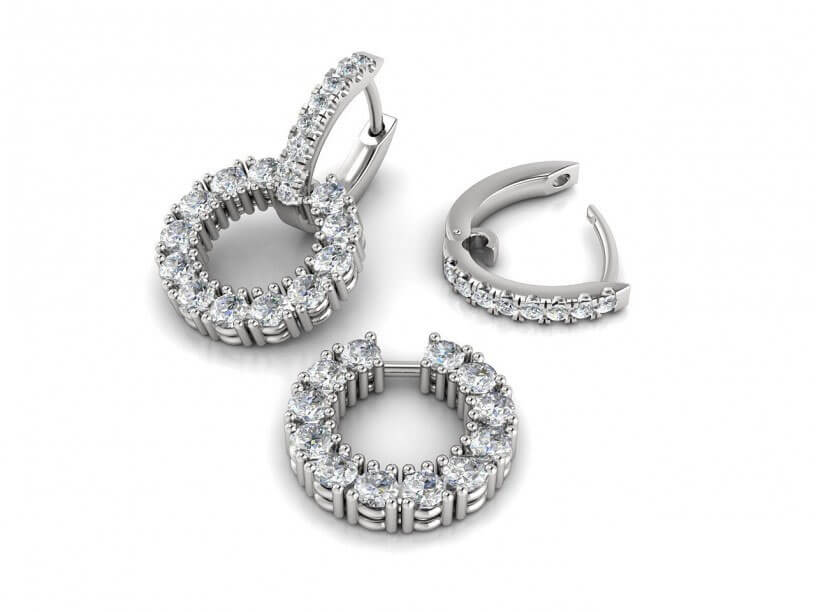 As with our rings, diamonds are always going to be a popular choice for custom earrings, and many of the classic cuts are suitable. Solitaire and cluster diamonds are popular choices, while the metal they are set in can be 18k yellow, white or rose gold, or platinum. The colour of the diamonds themselves can subtly offset your dress, with champagne, pink, white and yellow diamonds among the types available. (Further details are on our diamond guide page.)
You can choose from many other gems (with the caveat that they should always go with the dress you intend to wear). Typical choices include sapphire, aquamarine, ruby, tanzanite and amethyst.
For more details on how we can custom make a set of earrings for you, please visit our shop in Melbourne's Central Business District, or contact us by phone or email.