Congratulations – you've found The One, and now you want to share it with the rest of the world. While we can't help you with the proposal (you're on your own, with that one) we can certainly guide you on the type of ring to choose for your beloved.
If you thought men's engagement rings were just plain, thick bands (or worse: non-existent) then you're in for a surprise. Traditionally and across many customs, February 29 is said to be the one day when a woman can propose to her partner. But does it really matter who proposes to whom, and when? We don't think so, which is why we have come up with a guide on the different types of men's engagement ring styles and settings.
Do men really wear engagement rings?
In Ancient Rome, engagement rings were a physical sign of "ownership" of a woman. Nowadays, they are a symbol of love, devotion and an emotional commitment to a future marriage. And just as the meaning behind engagement rings have changed, so too have traditional gender roles. Women may ask men to marry them, or same-sex couples may choose to become engaged.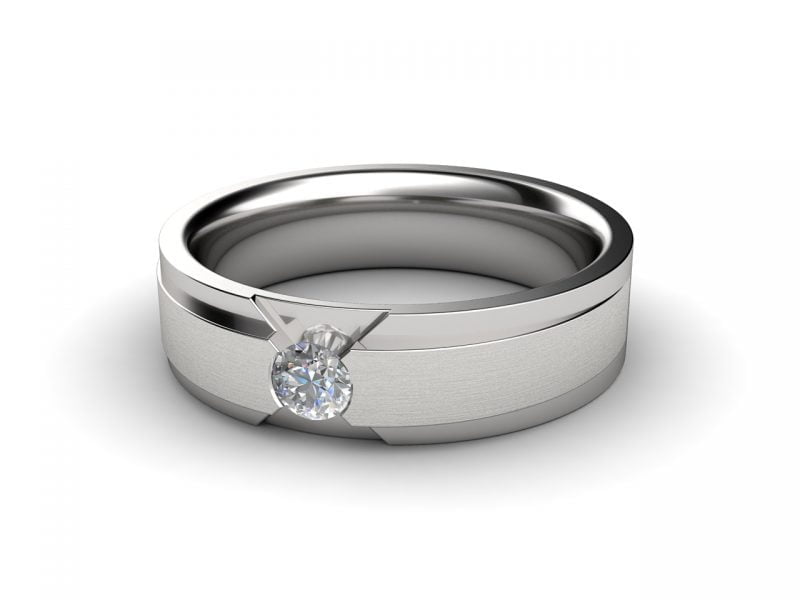 Whatever your circumstances, Joseph George is here to help you decide which ring is right for him. After all, you don't want to show up empty-handed as you get down on bended knee.
4 engagement ring styles and settings
Simple engagement rings: This style is still one of the most popular choices to this day and for good reason: it's ideal for those on a budget, and it's also a timeless look. When deciding on this ring, you can choose white gold, yellow gold, titanium or any other precious metal. This style is sleek and safe.
Modern engagement rings: If they like to stand out, a modern engagement ring might be the better choice. This means foregoing the standard colours and opting for something distinct. While this can look quite remarkable in itself, you can also add a bevelled edge detailing for extra flair.
Classic engagement rings: This one's for the true romantics – an engagement band lined with diamonds, sapphires, or emeralds. To make the gemstones truly pop, encase them in yellow gold, bevel style. Alternatively, you could buy a simple band and opt for just three stones in the centre.
Custom engagement rings: Of course, for a truly one-of-a-kind piece, you can't go wrong with a custom engagement ring. This is ideal for those who don't want to pop the question – literally. When choosing a custom engagement ring, it's a cooperative process so you'll be both invited to meet with a jeweller to discuss your preferred style, colour, and metal. Then, the jeweller will sketch out your desired engagement ring so you can see what it will look like before you commit to the purchase.
Need help deciding on your perfect wedding band? Just contact your specialist jewellers at Joseph George on (03) 9654 4899 or contact us online. We'll be thrilled to guide you through the process in selecting the right ring for him.