In 2017, there were almost 113,000 marriages in Australia. Perhaps 3 years ago, you viewed those couples with envy. But all that's going to change very soon. You've been in a long-term relationship that's going swimmingly. And you're sure this person is the love of your life. So you want to officially make them your spouse. If you're planning on proposing, then you'll want to read on. In this article, we'll give you 7 tips on the diamond clarity chart and how to buy the right diamond engagement ring for your special someone.
1. Imperfections Affecting Diamond Clarity
The first thing you need to understand about diamond clarity is what exactly affects it.
You see, because diamonds are naturally formed in the earth's core, they'll come out in imperfect forms. They'll certainly have blemishes or inclusions. These will cause light to not reflect as well.
As you may guess, the more blemishes or inclusions a diamond has, the lower its clarity.
2. Understand the Diamond Clarity Chart
Before you go buying an engagement ring, you need to first understand the diamond clarity chart and what the extreme ends mean. After all, there's nothing worse than flip-flopping your understanding of it and ending up with a ring that's completely opposite of what you wanted!
There's the main chart by the Gemological Institute of America (GIA), which has the categories of F, VVS, VS, S, and I. They stand for "flawless", "very very slightly included", "very slightly included", "slightly included", and "included".
The American Gem Society (AGS) also has their own scale, ranging from 0 to 10. 0 is flawless, 1-2 are VVS 1 and 2, 3-4 VS 1 and 2, 5-7.5 are SI 1 and 2, and 7.5-10 are I 1 through 3.
Prices are most expensive starting at F (or 0) and get cheaper as you go through the chart to I (or 10).
3. The Position of the Blemish Matters
What affects the clarity (and price) isn't just how big, and numerous the blemishes are. The position also greatly affects clarity.
For example, inclusions that are near the bezel facets or girdle won't be as obvious as ones on the diamond table will be. So if you're looking at a VVS1 and an SI1 diamond, they may look almost identical, depending on where the blemishes are positioned.
4. Most Blemishes Can't Be Seen With the Naked Eye
If you're not too picky about flaws that can be seen with the naked eye, then you'll be pleased to know that most blemishes aren't visible. For anything lower than an SI1, it's more than likely that you can't see the inclusions unless you use 10x magnification.
Even with SI1 and higher diamonds, you have to look carefully to notice the flaws. These include feathers, cavities, knots, and clouds. These may slightly affect the clarity and shine of your custom made engagement rings.
5. Go for an I-Grade Diamond Clarity Ring if You're on a Budget
Perhaps you want to go on a lavish honeymoon, or the two of you are saving up to buy a big house. So maybe you don't have a tonne of spare cash lying around; you have enough for a decent engagement ring, but you don't want to spend too much.
In this case, an I clarity engagement ring can be perfect. As we mentioned above, most blemishes in diamonds aren't visible to the naked eye. And even with I-grade diamonds, you'll have to really look up close and personal to notice these flaws.
With the money saved on this engagement ring, you can spend more on the more important things, such as the wedding ring, a big honeymoon, or down payment for a house.
Do keep in mind that I-grade diamonds do have more imperfections. So even though diamonds are the toughest mineral on the planet, if your loved one accidentally knocks their ring on a table, it's possible that the diamond will break.
6. Consider the Shape of the Diamond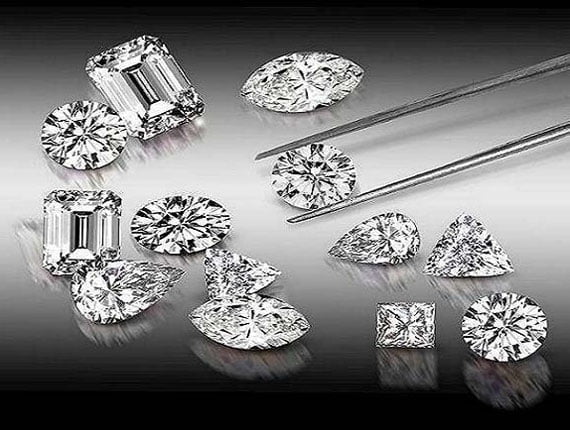 Not only does the size and position of the blemish matter, but so does the shape of the diamond. If you're going for a lower clarity diamond, then you have to carefully consider the shape of the diamond in the engagement rings you're looking at.
Your significant other may want something like a princess cut engagement ring, but these are susceptible to chipping at the corners, even with a flawless diamond. If there are blemishes located in the corner, then it'll be even more likely to chip.
Other shapes that are susceptible to chips include heart-shaped, pear, marquise, and trillion.
7. No Budget? Then Go With a Flawless Diamond
If the sky's the limit for your engagement or wedding ring, then why not go with a flawless diamond? These are of the highest grade, which means they're practically perfect.
For those of you with partners who only want the finer things in life, you can't go wrong with a flawless diamond. There are not many in this world, so you can show them just how much your love means by representing it in this very special engagement ring.
Pick the Perfect Custom Engagement Ring
When it comes to buying a diamond engagement ring for your loved one, it's vital that you know how to read and understand the diamond clarity chart. Buying this ring is a huge investment, so you want to make sure it's money well spent.
By using our tips, not only can you ensure you're making a wise purchase, but you can also pick out the best ring for your sweetheart's personal taste. This will definitely start your engagement on the right foot!
Want to get something unique for your soon-to-be fiance? Then get in touch with us now to get a custom made engagement or wedding ring made in Melbourne, Australia!